Dette brettet er et super High Performance longboard. Bygget for å fungere i alt fra 1 til 6 fots bølger, stabilt "down the line" samtidig som det er løs og fin i toppturn. I tilegg til at brettet er solid off the top er brettet utrolig stabilt å bevege seg på og perfekt til nose-riding. 
9´3"x22.5" brettet passer bra til nybegynnere og viderkommende, mens 9´1"x22" virkelig kommer til sin rett for mer avanserte longboard´ere.
Brettet kommer i Limited Series teknologi som er lett, sterkt og prisgunstig.
Finner følger ikke med brettet så dette må evt bestilles ved siden av.
Dette er ikke et SUP brett, men et klassisk bølge surfe brett.
Spec:
Model
9'3" x 22.5"
LONGBOARD SURF

9'1" x 22"
LONGBOARD SURF

Length
9'3" / 281.9 cm
9'1" / 276.7 cm
Width
22.5" / 57.2 cm
22" / 55.9 cm
Thickness
2.8" / 7.1 cm
2.8" / 7.1 cm
Tail Width
14.6" / 37.1 cm
14.0" / 35.6 cm
Volume
65 L
59 L
Fin Set Up
Thruster
Thruster
Fin boxes
FCS2 side fin box
10" center US box

FCS2 side fin box
10" center US box

Fins
Not included
Not included
Weight
LIMITED SERIES: 6.5 kg (Est.)

LIMITED SERIES: 6.3 kg (Est.)
Mer om konstruksjonen i Limited Series.
TIMELESS LOOK, SOLID PERFORMANCE
Twin T-stringers made from glass fibre are positioned on the deck and bottom of the board close to the rail, providing a massive increase in the overall strength against total breakage in surf.
An additional wide layer of 200g glass wraps the rails for higher strength against paddle impact and further reinforces the overall strength against buckling.
The deck features reinforced biaxial glass and Australian pine, to resist heel dents and impact from the standing area.
The nose and tail are wrapped in multiple layers of glass fiber for further strength on these impact zones.
A FAVOURITE AND A MUST HAVE LONGBOARD IN THE QUIVER
THE PERFECT MIX
The perfect mix of modern-day lightweight technology with a classic old-school longboard feel, the board that the World Campions grab when they go to work.
2 X ULTIMATE WATERMAN WINNER
"I've ridden many longboard in my life and the Blue Carbon Starboard 9'1″ is by far my favourite" ~ Zane Kekoa Schweitzer, Ultimate Waterman
FULL NOSE
To allow for maximum nose riding in critical sections of a wave.
PARALLEL OUTLINE
Parallel straight outline in the midpoint provides a smooth fast glide that is easy to trim the board.
GRADUAL NOSE KICK
Ensures a smooth take-off into waves without pearling.
RELATIVELY FLAT MIDSECTION
Delivers speed feeding into a moderate tail kick for responsive turning.
FLAT DECK
Flat deck improves stability and makes transitioning effortless from rail-to-rail allowing for drawn-out carves.
V-CONCAVE
Through the mid-section of the board for down-the-line speed.
NARROW DIAMOND TAIL
Is extremely reactive in bottom turns.
THRUSTER FIN SET UP
• 2 x FCS side fin boxes and 10″ Lightweight Starboard US box.
• Fins are not supplied with the board.
---
https://sup.star-board.com/paddle-board/hard-paddle-board/longboard-surf/
---
Starboard er et av de eldste og mest respekterte merkene på markedet. Starboard ble startet av norske Svein Rasmussen tilbake i 1994 med revolusjonerende windsurfingbrett. Nå produserer Starboard de beste SUP, kitesurf, windsurf og surfebrett i verden. Gå til vår nye side www.sup.no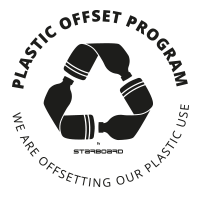 MANGROVER - For hvert brett som selges, planter Starboard en mangrove i Thor Heyerdahl klimapark, som absorberer ett tonn CO2 over 20 år. Les mer->
PLASTIC OFFSET PROGRAM - For hvert brett som selges, plukker Starboard 1,1 kg havplast/søppel. Tilsvarer mengden plastsøppel som kommer ut i havet, per person, per år. Les mer->
Vi er stolte av å representere Starboard SUP i Norge.