FUTURA
IMPOSSIBLE ENGINEERING
100 | 105 | 110 | 120 | 135
Contemporary evolution of the test-winning board that really started the freerace craze for technical windsurfers seeking the impossible: maximum speed combined with comfort, controlandjibingprecision. The Futuras deliver maximum average speed with total confidence and comfort.
Perfect for long distance - or simply drag racing at your local beach, the Futura concept is built around iSonic DNA with a wide, moderately thin
and compact body. Width gives you wind range and power. Reasonable thickness in the rails provides power and enhances controlled leverage over the fin. A thinner profile at the mast track lowers the centre of gravity for added control. Optimised stance for longer and more confident fast runs. The Futura allows you to reach maximum potential in a more accessible and user friendly package. Save energy, maintain a high average speed for miles and make sporty jibes.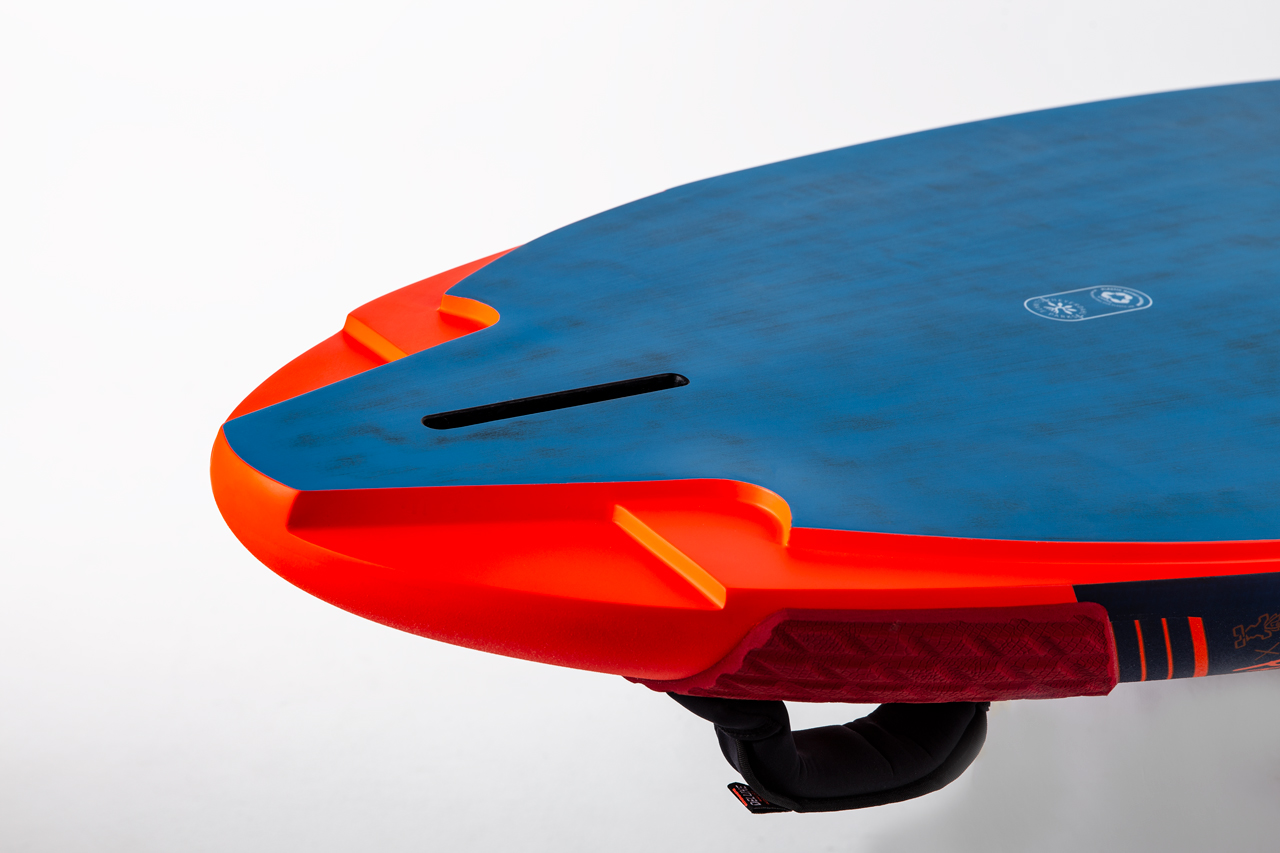 DOUBLE STEP CUT AWAYS
Double Step Cutaways for added release and increased speed.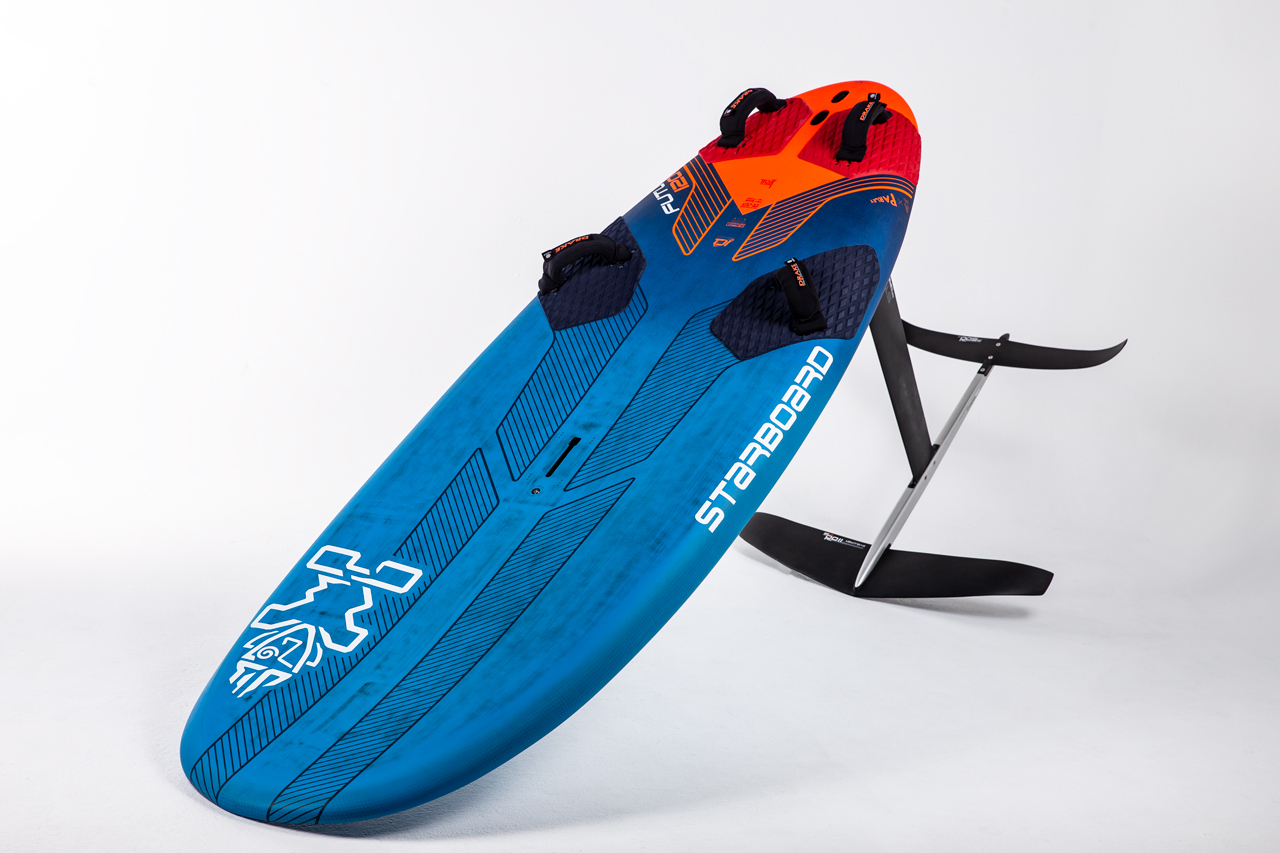 READY TO FOIL
The Futura 105, 110, 120 and 135 are fitted with Foil-Ready fin boxes.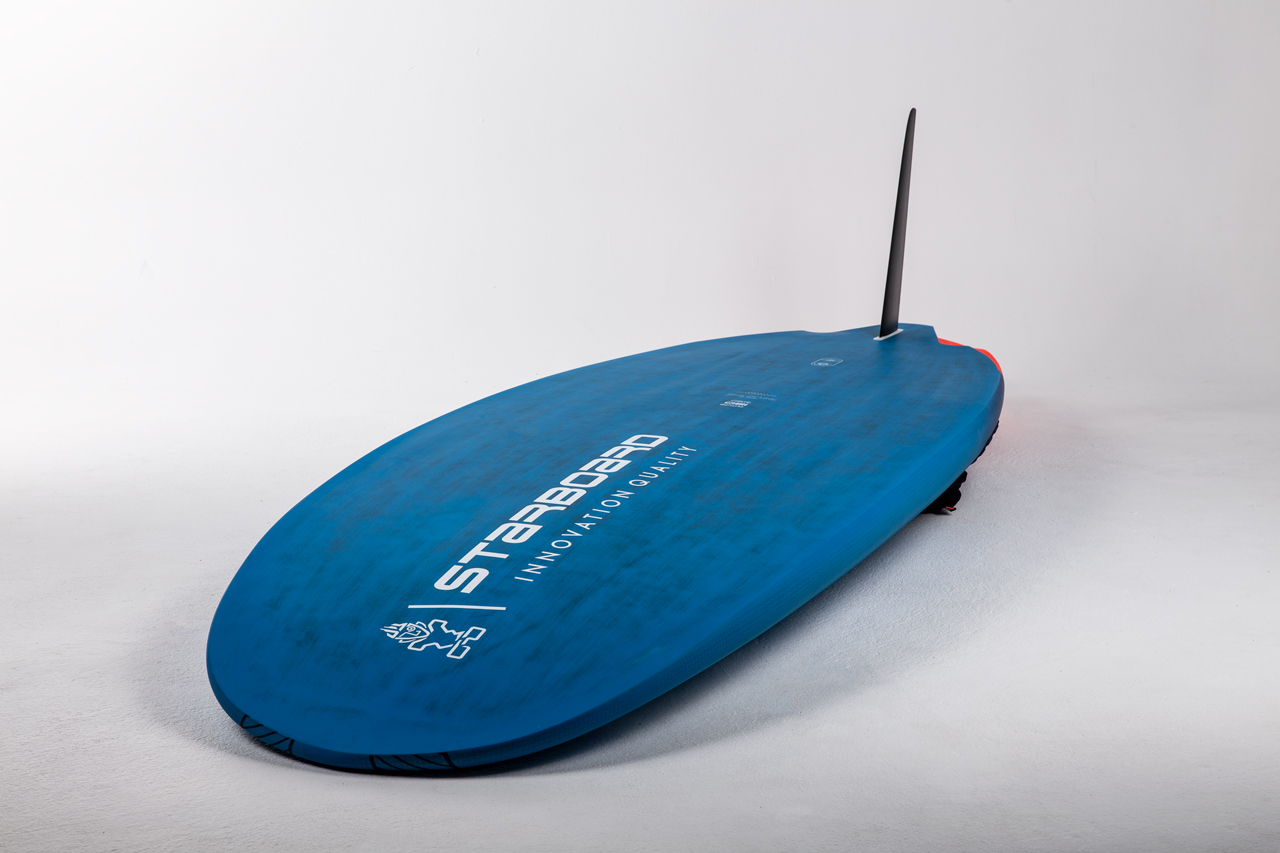 BOTTOM SHAPE
The Futuras have a more pronounced Vee across the bottom for improved control and comfort through harsh chop, smooth flowing jibes and a more lively ride. Power on.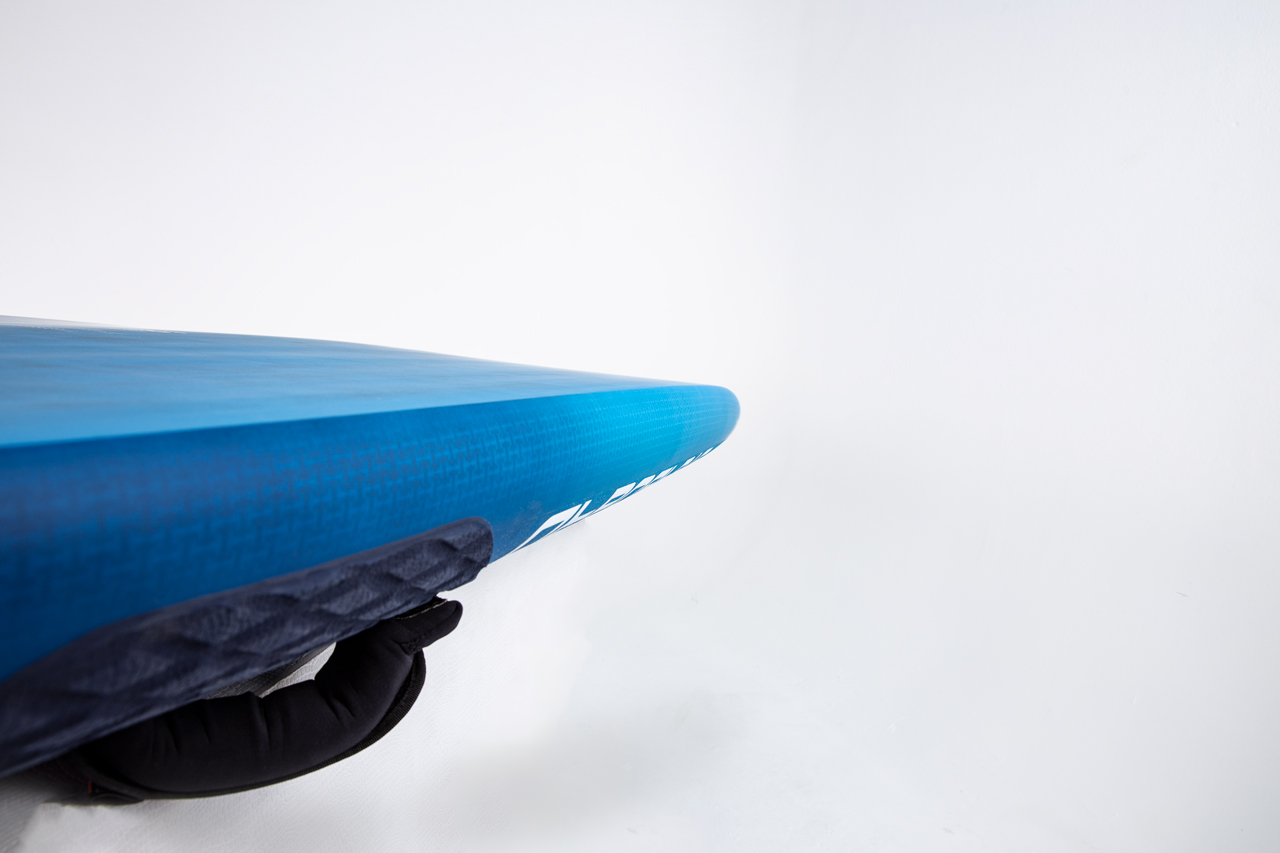 THIN RAILS
The rails are rounder and thinner than the iSonic rails. Easier in the rough. Smoother in the turns.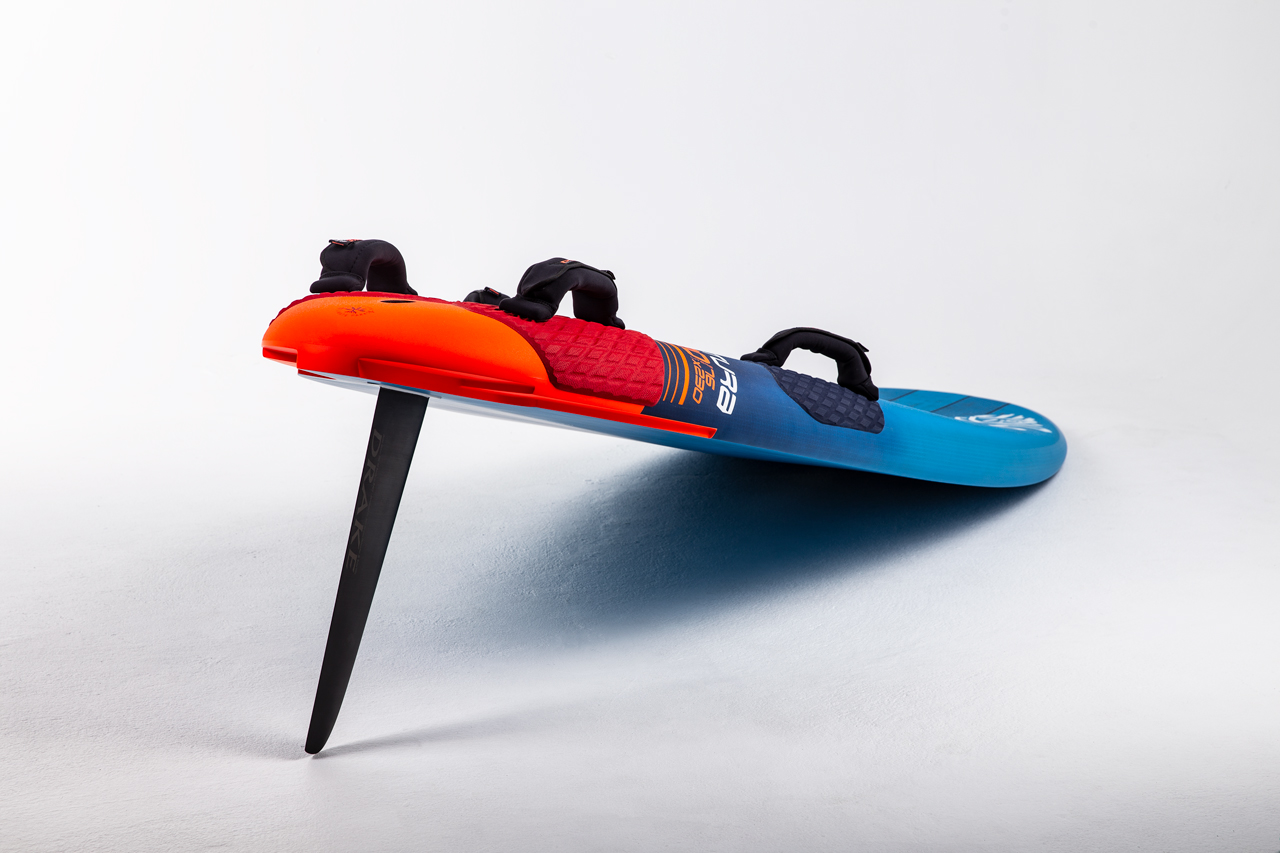 DRAKE SLALOM DW READY TO RACE
Each Futura is supplied with a selected Drake Slalom DW fin. These top-end Ready to Race production fins bring out the best in the Futuras. The Slalom DW model combines impressive amounts of speed and acceleration with great jibing abilities.
DRAKE SLICK FOOTSTRAPS
The Drake Slick footstraps are made with FSC-certified, sustainably sourced and plant-based Yulex foam. With 85% natural rubber content, CO² emitted during the manufacturing process is reduced by 80%. The remaining 15% of synthetic neoprene is kept to improve UV resistance. Carefully sourced with the smoothest fabric for a comfortable feel.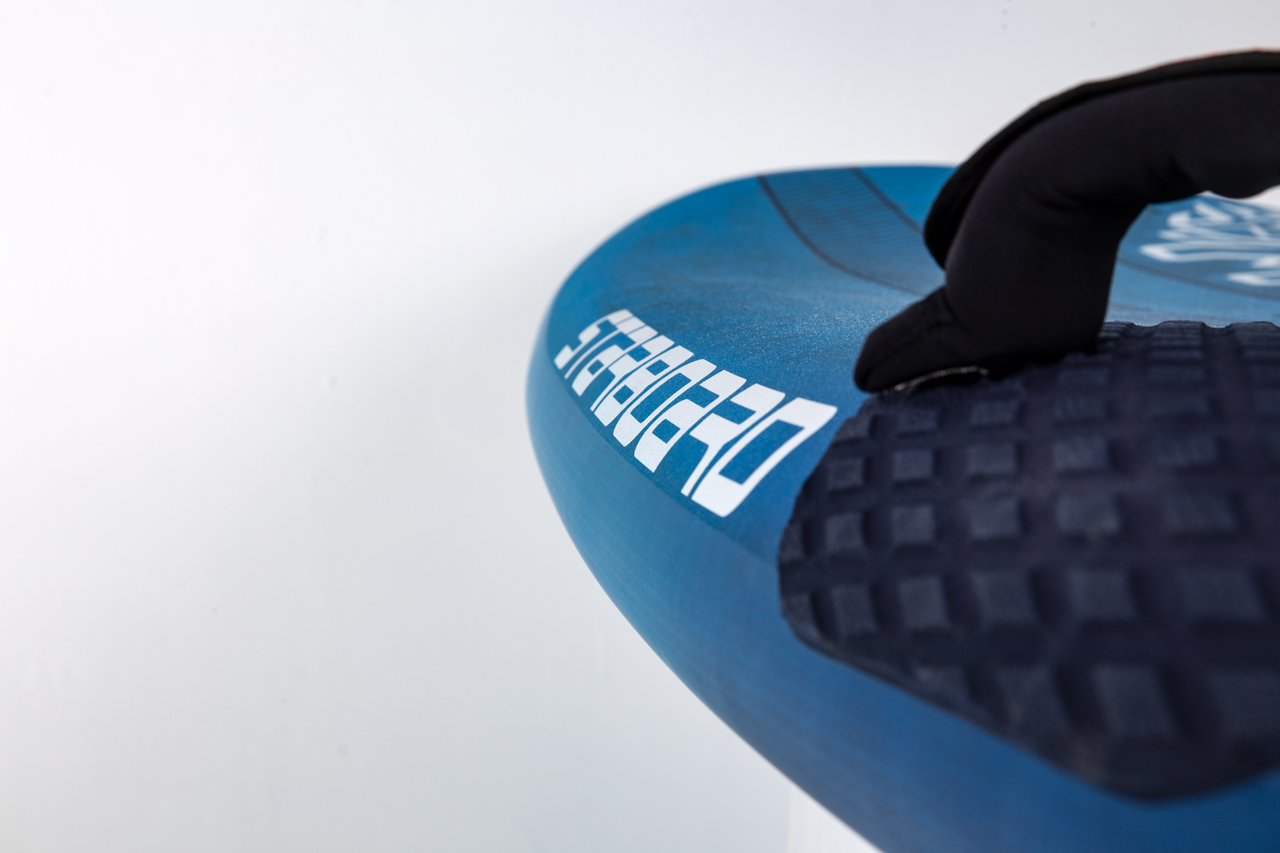 LIGHTWEIGHT PADS
The Futuras feature 6mm thick footpads in the tail and 4mm in the front. This combination delivers a highly reactive yet comfortable feel while minimizing weight. The thermoformed diamond grooved pattern provides grip and comfort over extended sessions, while being resistant to wear-and-tear.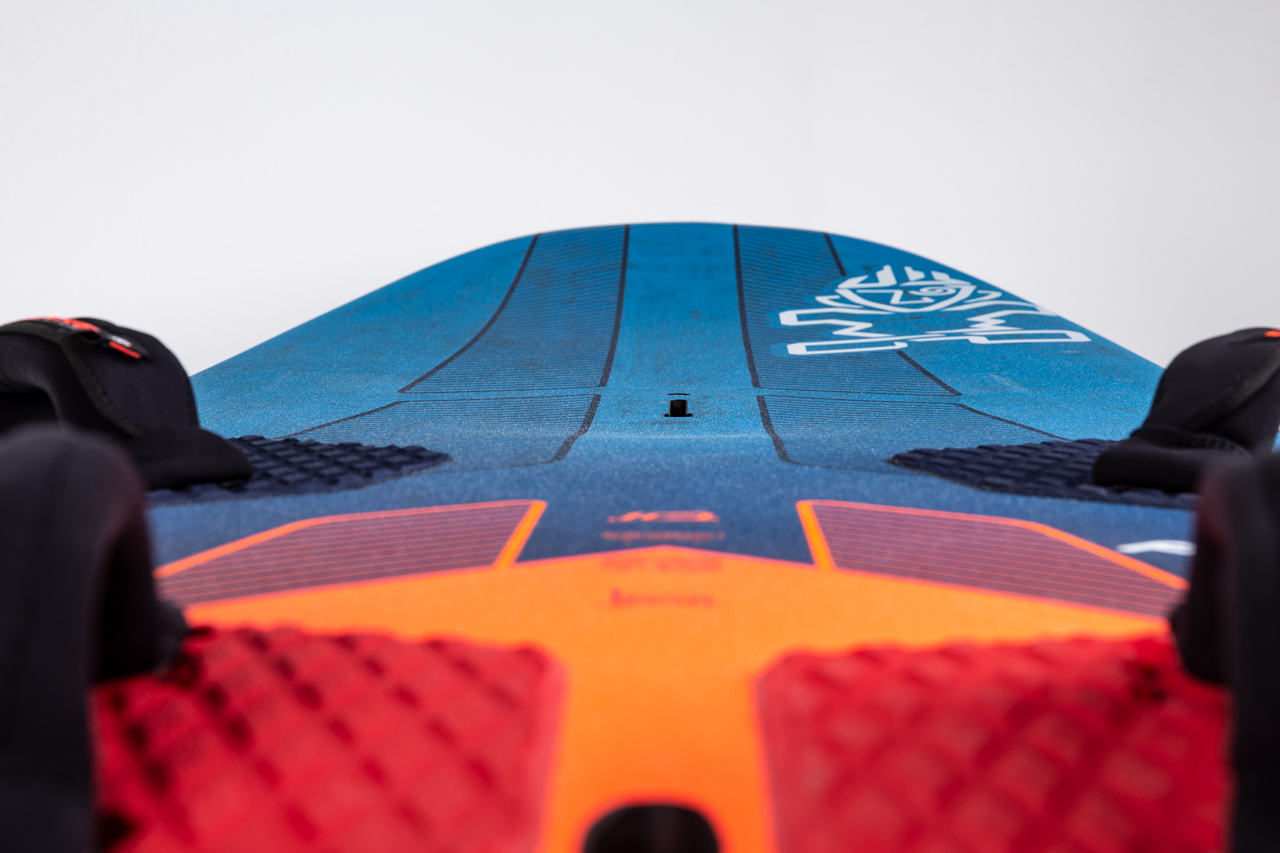 CARBON SANDWICH
Ultralight weight with an emphasis on performance value, while using more environmentally friendly materials. The bottom is built in full T700 uni-directional flat-woven carbon for maximum stiffness, while the deck is 60% carbon, alternating between uni-directional and bi-axial carbon layers for optimized flex. The composite sandwich layers include the use of ultra-high density PET and PVC foam.
| | | | | | |
| --- | --- | --- | --- | --- | --- |
| Model | FUTURA 100 | FUTURA 105 | FUTURA 110 | FUTURA 120 | FUTURA 135 |
| Technologies | Carbon Sandwich | Carbon Sandwich | Carbon Sandwich | Carbon Sandwich | Carbon Sandwich |
| Technologies | Wood Sandwich | Wood Sandwich | Wood Sandwich | Wood Sandwich | Wood Sandwich |
| Volume | 100 L | 105 L | 110 L | 120 L | 135 L |
| Length | 225 cm | 229 cm | 229 cm | 230 cm | 234 cm |
| Width | 63 cm | 67 cm | 71 cm | 76 cm | 83 cm |
| Tail Width | 40.9 cm | 44.7 cm | 46.6 cm | 48.7 cm | 52.5 cm |
| Thickness | 12.8 cm | 11.5 cm | 11.5 cm | 11.6 cm | 11.9 cm |
| Bottom Shape (Tail To Nose) | Flat Vee to Double Concave | Flat Vee to Double Concave | Flat Vee to Double Concave | Flat Vee to Double Concave | Flat Vee to Double Concave |
| Fins | Drake Slalom DW 32 Ready To Race | Drake Slalom DW 36 Ready To Race | Drake Slalom DW 38 Ready To Race | Drake Slalom DW 42 Ready To Race | Drake Slalom DW 44 Ready To Race |
| Finbox | Tuttle Box | Foil Box | Foil Box | Foil Box | Foil Box |
| Fin Range | 30 - 34 cm | 34 - 38 cm | 36 - 40 cm | 40 - 44 cm | 42 - 46 cm |
| Sail Range | 4.5 - 7.5 m2 | 5.0 - 8.0 m2 | 5.5 - 8.5 m2 | 6.0 - 9.5 m2 | 6.5 - 10.0 m2 |
| Weight Carbon Sandwich +/-5% | 6.5 kg | 6.91 kg | 7.18 kg | 7.63 kg | 8.10 kg |
| Weight Wood Sandwich +/-5% | 6.57 kg | 6.99 kg | 7.20 kg | 7.67 kg | 8.36 kg |
|   |   |   |   |   |   |