NEW 7'10″ x 28″
Length: 7'10" / 239 cm
Width: 28" / 71 cm
The new 7'10" is slightly thinner yet longer than the previous 7'7″, making the float feel less corky despite the reduced volume. The added length and narrower nose aids late entry in hollower waves, giving you more speed to confidently make critical sections. Squash tail feels smooth and secure when you drive off the bottom and hit the lip!
<iframe width="560" height="315" src="https://www.youtube.com/embed/oZgqJuW51L0" title="YouTube video player" frameborder="0" allow="accelerometer; autoplay; clipboard-write; encrypted-media; gyroscope; picture-in-picture; web-share" allowfullscreen></iframe>
TIMELESS LOOK, SOLID PERFORMANCE
Twin T-stringers made from glass fibre are positioned on the deck and bottom of the board close to the rail, providing a massive increase in the overall strength against total breakage in surf.
An additional wide layer of 200g glass wraps the rails for higher strength against paddle impact and further reinforces the overall strength against buckling.
The deck features reinforced biaxial glass and Australian pine, to resist heel dents and impact from the standing area.
The nose and tail are wrapped in multiple layers of glass fiber for further strength on these impact zones.
---
Starboard er et av de eldste og mest respekterte merkene på markedet. Starboard ble startet av norske Svein Rasmussen tilbake i 1994 med revolusjonerende windsurfingbrett. Nå produserer Starboard de beste SUP, kitesurf, windsurf og surfebrett i verden. Gå til vår nye side www.sup.no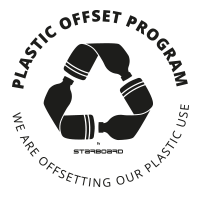 MANGROVER - For hvert brett som selges, planter Starboard en mangrove i Thor Heyerdahl klimapark, som absorberer ett tonn CO2 over 20 år. Les mer->
PLASTIC OFFSET PROGRAM - For hvert brett som selges, plukker Starboard 1,1 kg havplast/søppel. Tilsvarer mengden plastsøppel som kommer ut i havet, per person, per år. Les mer->
Vi er stolte av å representere Starboard SUP i Norge.