NEW 8'2″ x 29″
Length: 8'2" / 249 cm
Width: 29" / 74 cm
The 8'2″ replaces the previous 8'0″, extending the length to catch waves that bit earlier and to hold its line in steeper drops. The 8'2″ at 118 L will be highly popular for riders up to 95kg. The new fin position gives you the needed bite and manoeuvrability, coupled with drive through turns!
LIGHTEST AND STRONGEST
• Based on the world-proven and award-winning Carbon Sandwich construction, the Blue Carbon Pro features a full PVC wrap and the lightest 100g biaxial carbon fiber in the market.
• Highest grade 100g biax carbon wraps the full deck, rail and bottom.
• Thin high-density PVC wraps the entire board with an extra-strong PET standing reinforcement reduces resin uptake and increases the overall strength.
• The sensational lightweight increases carving ability and acceleration.
THINNER RAIL PROFILE
Reduces swing weight from nose, increasing pivot speed through turns.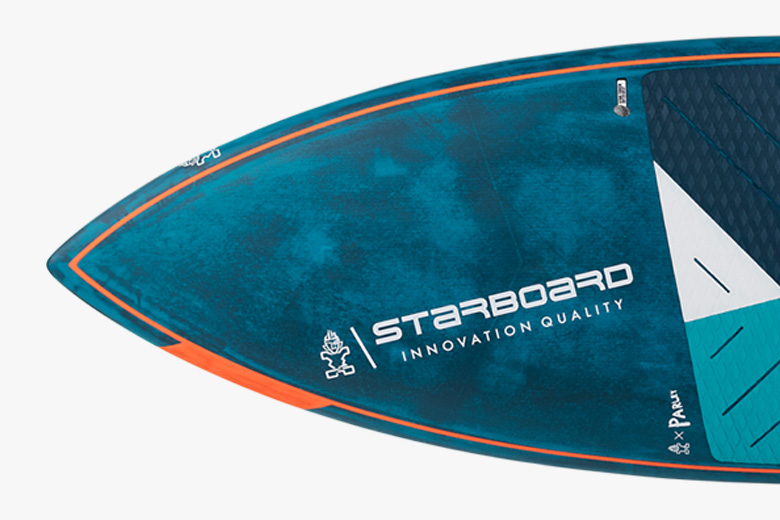 LONGER NARROWER NOSE OUTLINE
Extends the rail line, making it easier to paddle into waves and holding on steeper drops.
BOTTOM SHAPE
Single concave provides lift and speed, feeding through to a double midsection and slight vee at the tail to manoeuvre and rock from rail to rail.
FLATTER TAIL ROCKER
Rocker provides faster speed down the line and into turns.
RAILS
Are kept fine with a more pinched and rolled tuck edge, giving bite, control and speed through maneuvers
THINNER RAILS
At the tail gives more bite and control.
FLATTER DECK SHAPE
Offers more comfort and feels less corky.
SQUASH TAIL
Give the most versatile performance in all wave types, particularly holding in bigger surf.
5 FIN OPTION
The 5 fin option allows for quad, thruster and twin fin with small centre nubster. You can choose your preferred fin set up based on riding style and wave conditions.
SUPPLY WITH FINS
All models are supplied with a thruster set up with 4.7 front 120/140 center on bigger sizes. The angles of the fins are updated, with more spray in the front fins for greater manoeuvrability with less angle in the rear for greater drive through turns.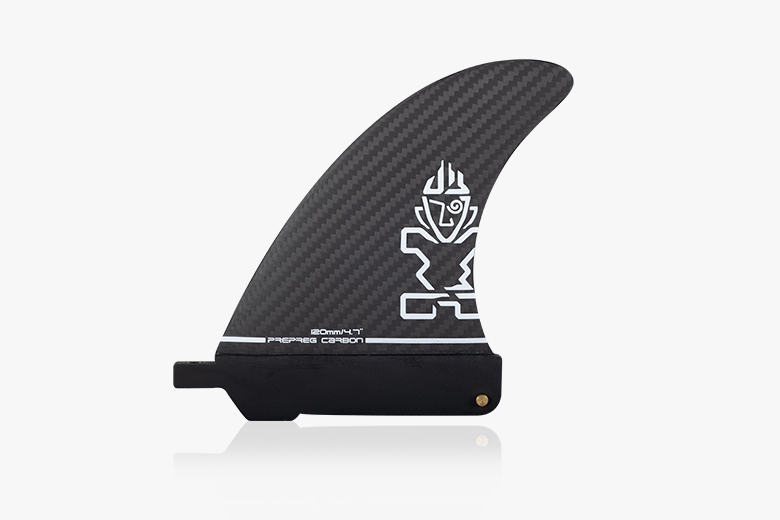 CARBON SURF FIN
PERFORMANCE YOU CAN FEEL
The new, ultra-light carbon surf fins will enhance your performance in the waves, providing more drive, stronger grip, and faster speed out of turns. (comes only with Blue carbon board)"
---
Starboard er et av de eldste og mest respekterte merkene på markedet. Starboard ble startet av norske Svein Rasmussen tilbake i 1994 med revolusjonerende windsurfingbrett. Nå produserer Starboard de beste SUP, kitesurf, windsurf og surfebrett i verden. Gå til vår nye side www.sup.no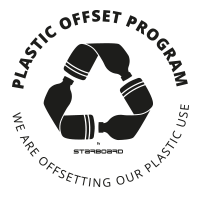 MANGROVER - For hvert brett som selges, planter Starboard en mangrove i Thor Heyerdahl klimapark, som absorberer ett tonn CO2 over 20 år. Les mer->
PLASTIC OFFSET PROGRAM - For hvert brett som selges, plukker Starboard 1,1 kg havplast/søppel. Tilsvarer mengden plastsøppel som kommer ut i havet, per person, per år. Les mer->
Vi er stolte av å representere Starboard SUP i Norge.