Our Foil Surf range offers you a dedicated foil board, designed for foil surfing, pump foiling and Winging.
The ultra-lightweight construction makes riding these boards feel effortless, allowing you to stay flying for longer. The compact short length means you have full control over trimming the board with ease and allows you to do carving turns without catching the rails or nose. The flat tail rocker increases your paddle speed and entry getting into waves, while the concave deck increases stability and offers a more sensitive feeling to the foil. The thick rails packs volume to ride such short sizes.
NARROWER NOSE OUTLINE
Faster to paddle, easier to push the nose into waves, less chance of catching the nose through turns. The widest part of the outline is quite far forwards so you can push down with your chest when paddling into waves.
ROCKER CURVE
A slight nose kick prevents the board pearling with enough curve to recover touch downs. Flat tail rocker maximizes paddle speed to help get into waves early. It also maintains the foil angle is always at 90 degrees when flying, helping to trim and maintain a balanced ride.
THICKER PROFILE
Packs a surprising amount of float to ride such short length and pops up easily on touch downs.
KICK TAIL
The bottom kick tail, similar to a skateboard, allows the rider to tilt the board upwards, forcing the nose to lift and release from the water. This acts as a lever to help lift the foil out of the water. It also reduces the tail touching the water when pumping and turning.
CONCAVE DECK
New concave deck makes it feel much more stable and comfortable when paddling. You can now push your chest forward and really get a lot of power getting into the waves, keeping the board stable. It also makes you feel more connected to the foil with the advantage of the extra volume on the rails for stability.
BOTTOM SHAPE
Rounded vee on the nose helps prevent the nose from sticking on touch downs, instead recovering without losing too much speed. The mid-section runs into a single concave for maximum paddle speed.
10″ US BOX PLATE MOUNT
The 10" box mounts a top plate foil mast and provides flexibility to adjust the foil position based on the rider preference, skill level and wave conditions. Starboards lightweight US box is 140g lighter than market standard boxes. The foil box is positioned slightly further forwards as the boards get longer to accommodate balancing the extra swing weight.
NEW FOOTSTRAP INSERTS
3 rows of foot strap inserts give you the option to ride with an angled or centered position for both the front and rear strap.
*Footstrap not included with the board and can be purchased after market
THE BEST VALUE FULL CARBON CONSTRUCTION WE HAVE EVER PRODUCED
• Top grade 150g Biaxial Carbon wraps the entire board, joining with an overlap on the deck and bottom to create flat stringer, increasing the total breakage strength.
• 2 skins of durable fibre glass form a sandwich around the biaxial Carbon, protecting the carbon by dampening and absorbing the impact.
• The combination of twin T-stringers deck and bottom work together to increase the overall total breakage strength.
• Multiple reinforcements in the standing area, nose and tail increase impact resistance.
Model
5'6" x 21.5"
FOIL SURF
5'2" x 20.5"
FOIL SURF
4'8" x 19.25"
FOIL SURF
4'3" x 18.5
FOIL SURF
Rider Weight
up to 95 kg
up to 90 kg
up to 80 kg
up to 70 kg
Length
5'6"" / 167.6 cm
5'2" / 157.5 cm
4'8" / 142.2 cm
4'3" / 129.5 cm
Width
21.5" / 54.6 cm
20.5" / 52.1 cm
19.25" / 48.9 cm
18.5" / 47 cm
Thickness
3.3" / 8.4 cm
3.2" / 8.1 cm
3.0" / 7.6 cm
3.0" / 7.6 cm
Tail Width
17.0" / 43.1 cm
16.0" / 40.6 cm
16.0" / 40.6 cm
16.0" / 40.6 cm
Volume
59 L
48 L
40 L
34 L
Fins Box
10" US Box
10" US Box
10" US Box
10" US Box
Weight
BLUE CARBON: 3.4 kg (est)
BLUE CARBON: 3.3 kg (est)
BLUE CARBON: 2.8 kg (est)

BLUE CARBON: 2.5 kg (est)
---
https://sup.star-board.com/paddle-board/hard-paddle-board/foil-surf-v2/
---
Starboard er et av de eldste og mest respekterte merkene på markedet. Starboard ble startet av norske Svein Rasmussen tilbake i 1994 med revolusjonerende windsurfingbrett. Nå produserer Starboard de beste SUP, kitesurf, windsurf og surfebrett i verden. Gå til vår nye side www.sup.no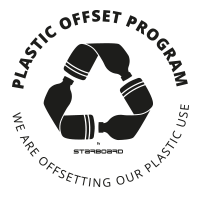 MANGROVER - For hvert brett som selges, planter Starboard en mangrove i Thor Heyerdahl klimapark, som absorberer ett tonn CO2 over 20 år. Les mer->
PLASTIC OFFSET PROGRAM - For hvert brett som selges, plukker Starboard 1,1 kg havplast/søppel. Tilsvarer mengden plastsøppel som kommer ut i havet, per person, per år. Les mer->
Vi er stolte av å representere Starboard SUP i Norge.