KODE – PLAYFUL WAVE RIDING. ENDLESS DRIVE.
85 | 95 | 105 | 115 | 125 | 135
Drive, agility and speed. The Kodes are more fun in waves and keep their fast freeride feel. Are we promising too much? Come and try for yourself.
The versatile Kodes ensure a confident and smooth ride in choppy conditions. In wave mode, the Kode encourages you into more radical turns than ever before – and get away with it in style. When the waves are flat, keep the action happening with the included freeride fin to maximize speed and drive. And fun.
We designed the Kodes to offer you the best onshore wave performance and excel in freeride, freewave and Bump & Jump. Time to play.
Kode 85, 95 and 105 accelerate quick with enough area behind the fin. This lift is balanced with more nose area, creating a super smooth ride in choppy waters. Manoeuvrability is enhanced by the added curve around the front footstraps. The new Kode hip outline makes bottom turns and jibes notably more engaging and flowing.
We want to make wave riding accessible to everyone in any conditions. Do you want to wave ride even if the wind is light and the currents are strong? Do you want a board that is easy to balance through the shorebreak?
The 115, 125 & 135 Kodes feature larger volumes with thin rails, allowing you to enjoy tricky conditions and ride more waves with ease. Enjoy the playful thruster set for wave riding and switch to the larger single fin option for a freeride blast.
FEATURES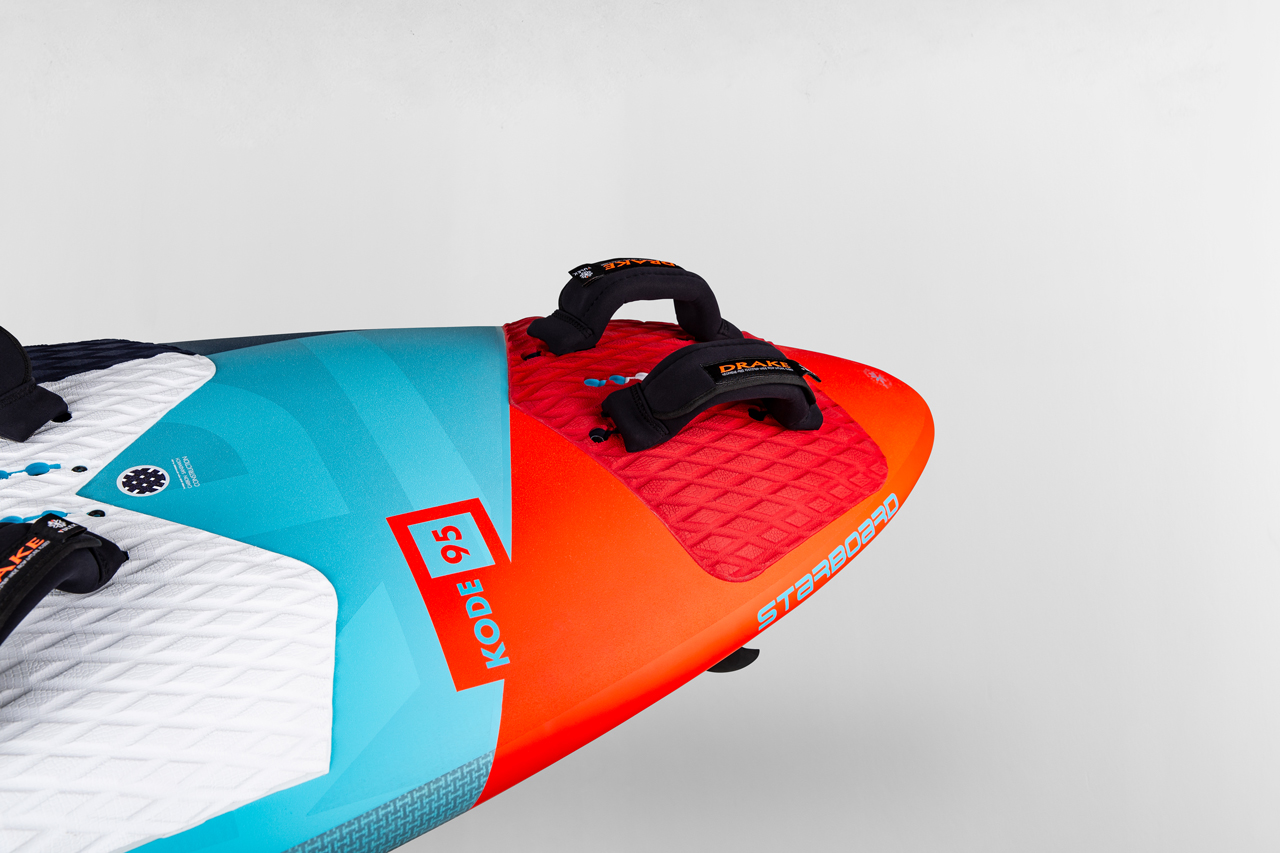 85, 95 & 105: ROUNDED TAILS AND NOSES
The curved tail outline enhances radical turns and smooth wave riding. Going upwind, downwind, reaching or riding waves, the consistent drive keeps you moving in tricky conditions. A sleek, rounded nose maintains a smooth ride in any conditions.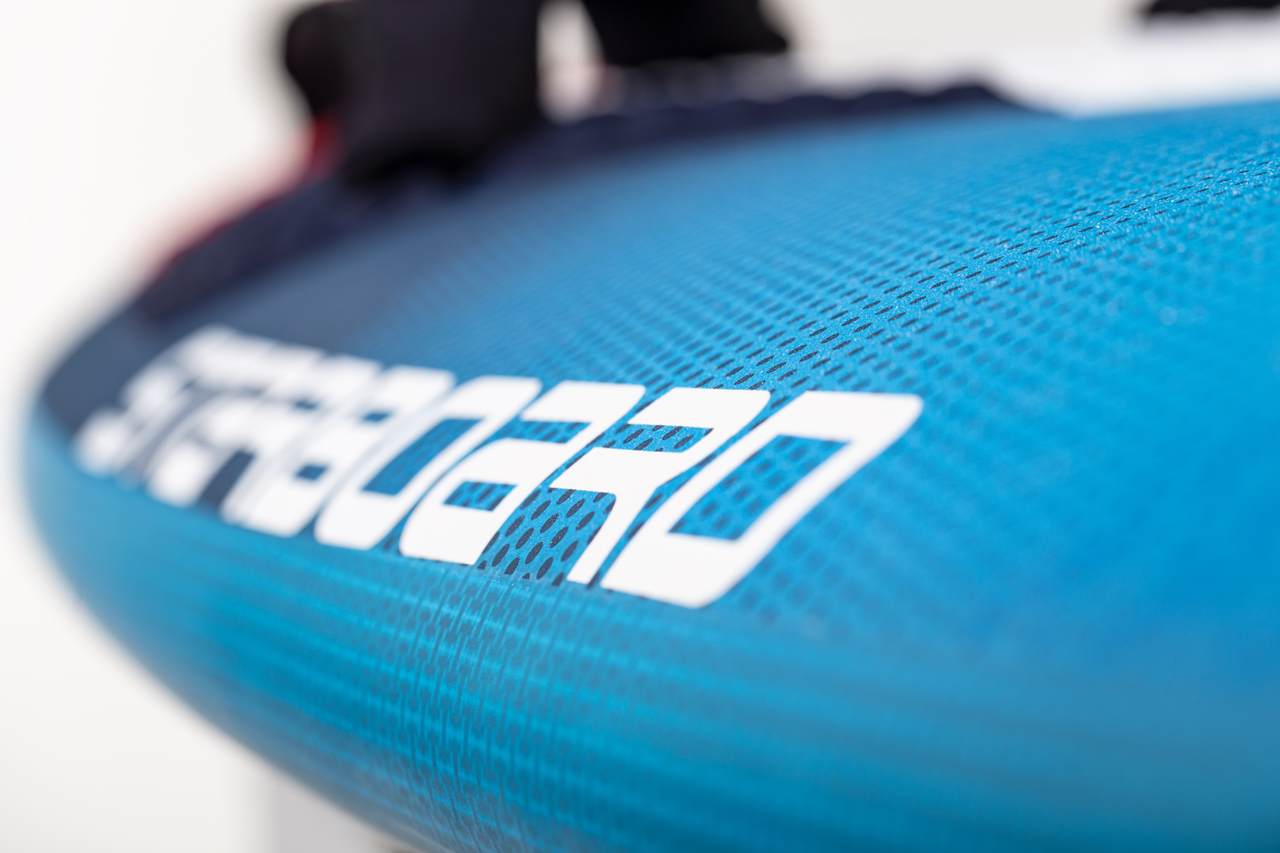 LOTS OF VOLUME - COMPACT SHAPE
Our larger volume Kode boards have loads of volume packed into a compact outline. The thin rails help these larger boards ride waves easily. With short nose and tail lengths, the bigger Kodes feel like a much smaller board under your feet, responding much more directly in manoeuvres.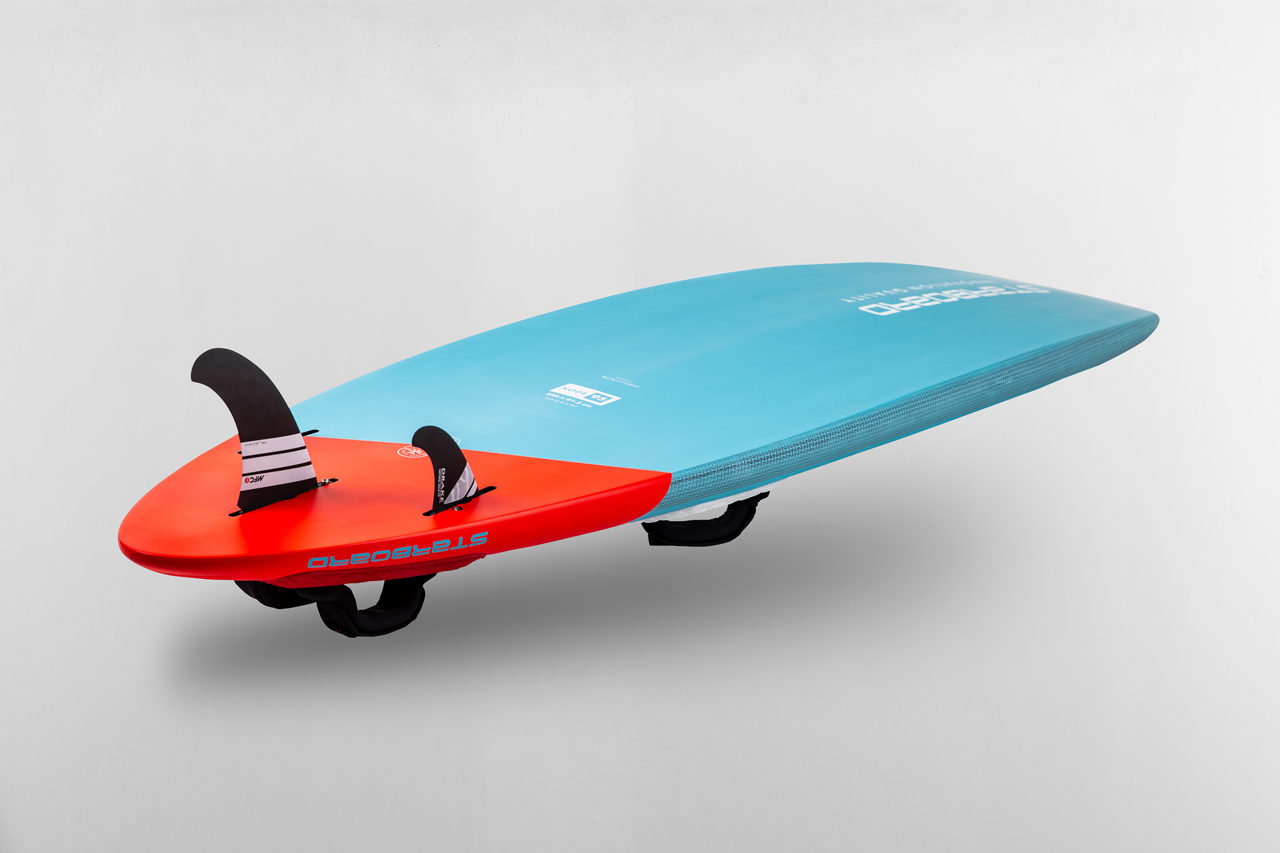 SPEED, GRIP & CONTROL
The bottom shape blends a fast rocker along the centreline for maximum speed with more curved rockers on the sides. As you engage the rail, that added curvature on the sides of the Kode bites and you feel the board lock in to a smooth carving arc.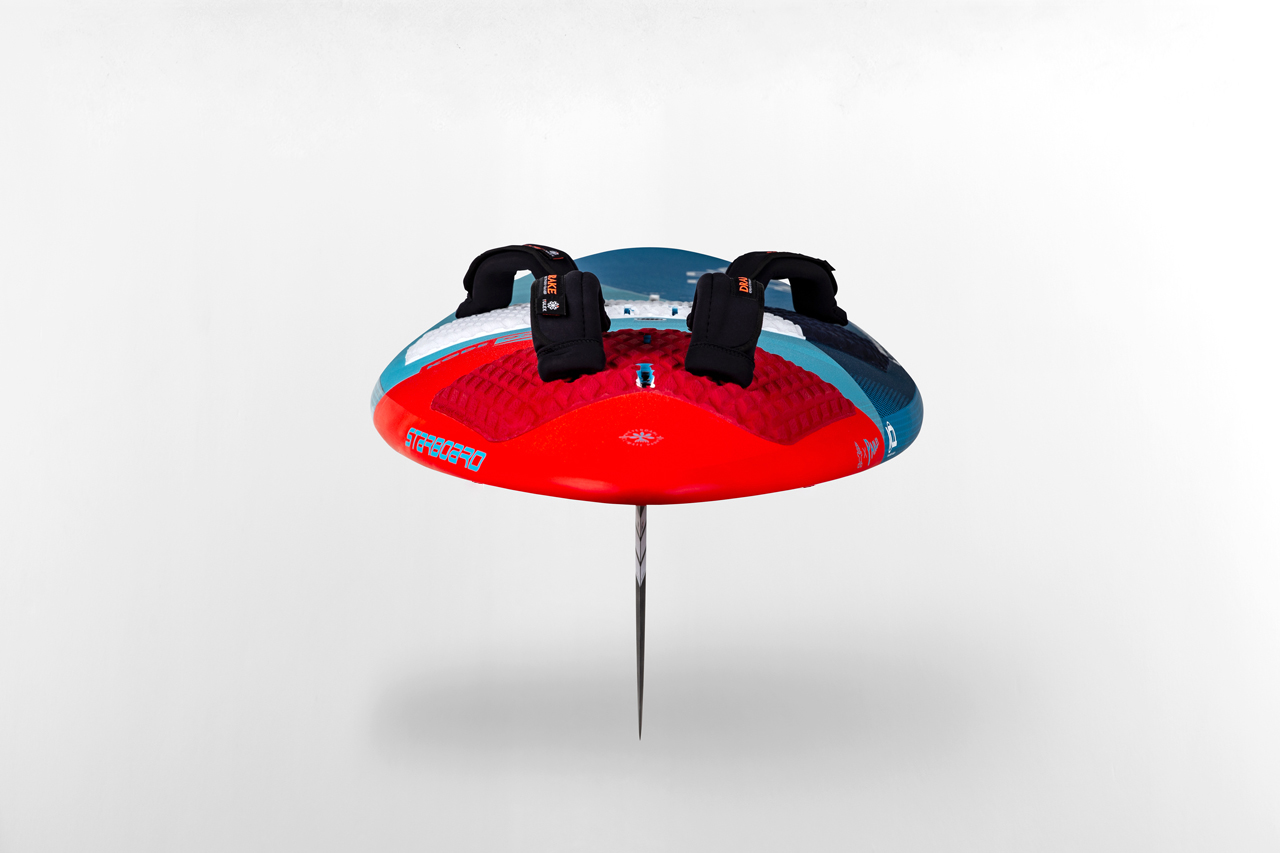 SINGLE FIN: FAST & FUN
Set up your Kode with the optional Drake FreeWave single fin and take it out in any conditions. With this set up the Kode doesn't need waves to unleash its full potential. The classic single fin configuration provides plenty of speed, early planing and a very directional drive, much like a freeride board.
*Drake FreeWave single fin is not included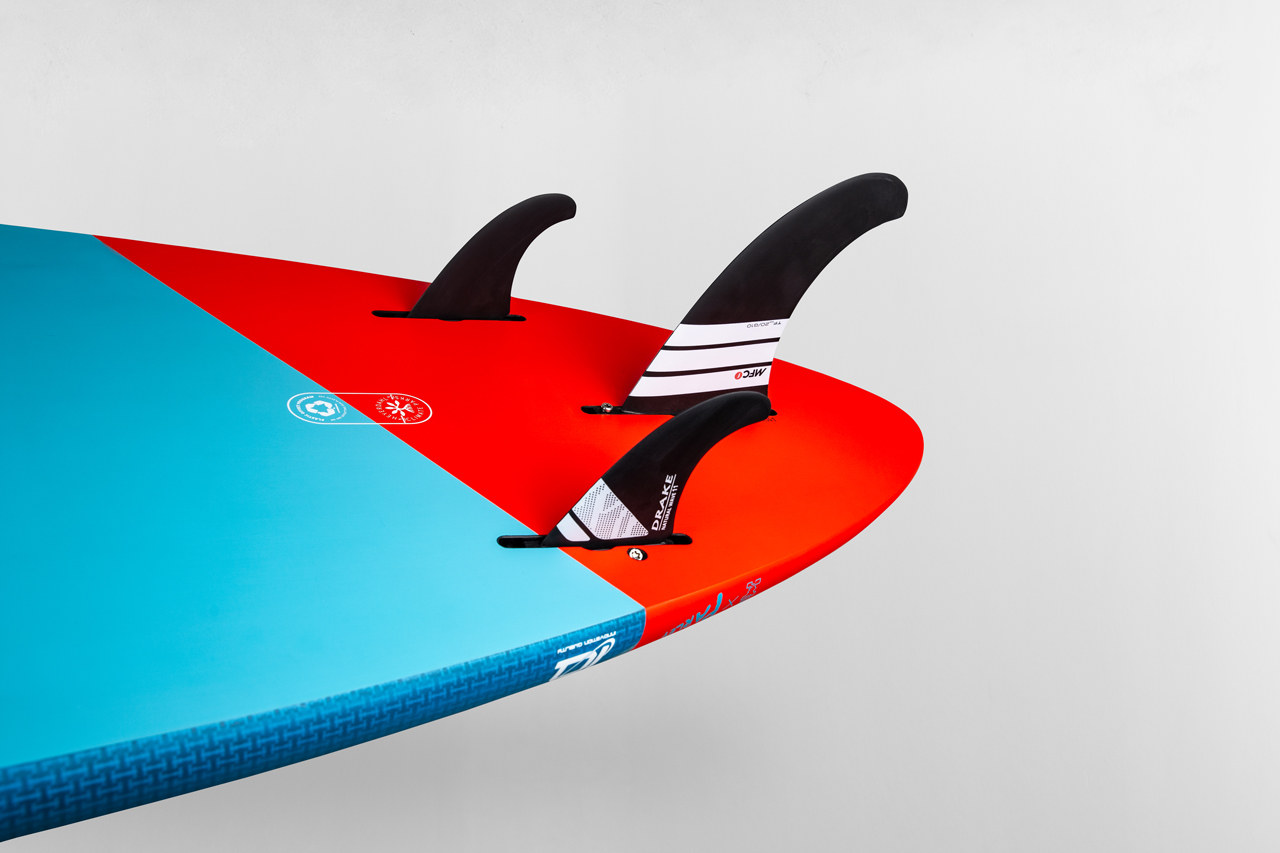 MORE WAVE PERFORMANCE
To get even more wave performance out of your Kode, simply load up the thruster fin set also supplied with the board. You'll quickly sense how the shorter center fin and side fins add a new dimension of manoeuvrability, grip and stability to your Kode.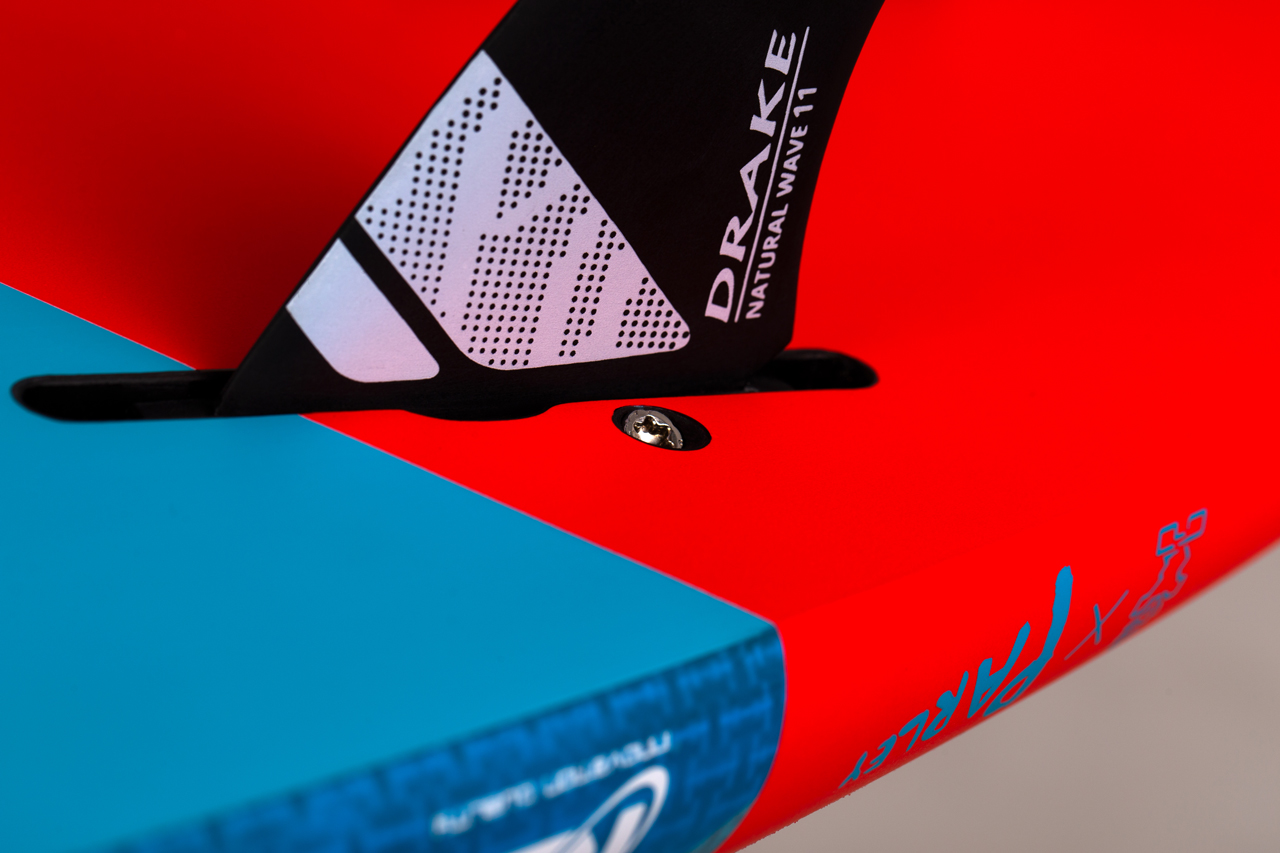 FINBOXES
Featuring two lightweight Starboxes and one US box (Powerbox on 125 & 135) the versatility doesn't take a toll on the overall board weight. The Starbox system allows you to fit Slot Box fins, quickly locating your last setting to get you on the water faster. Starbox is also compatible with US box fins.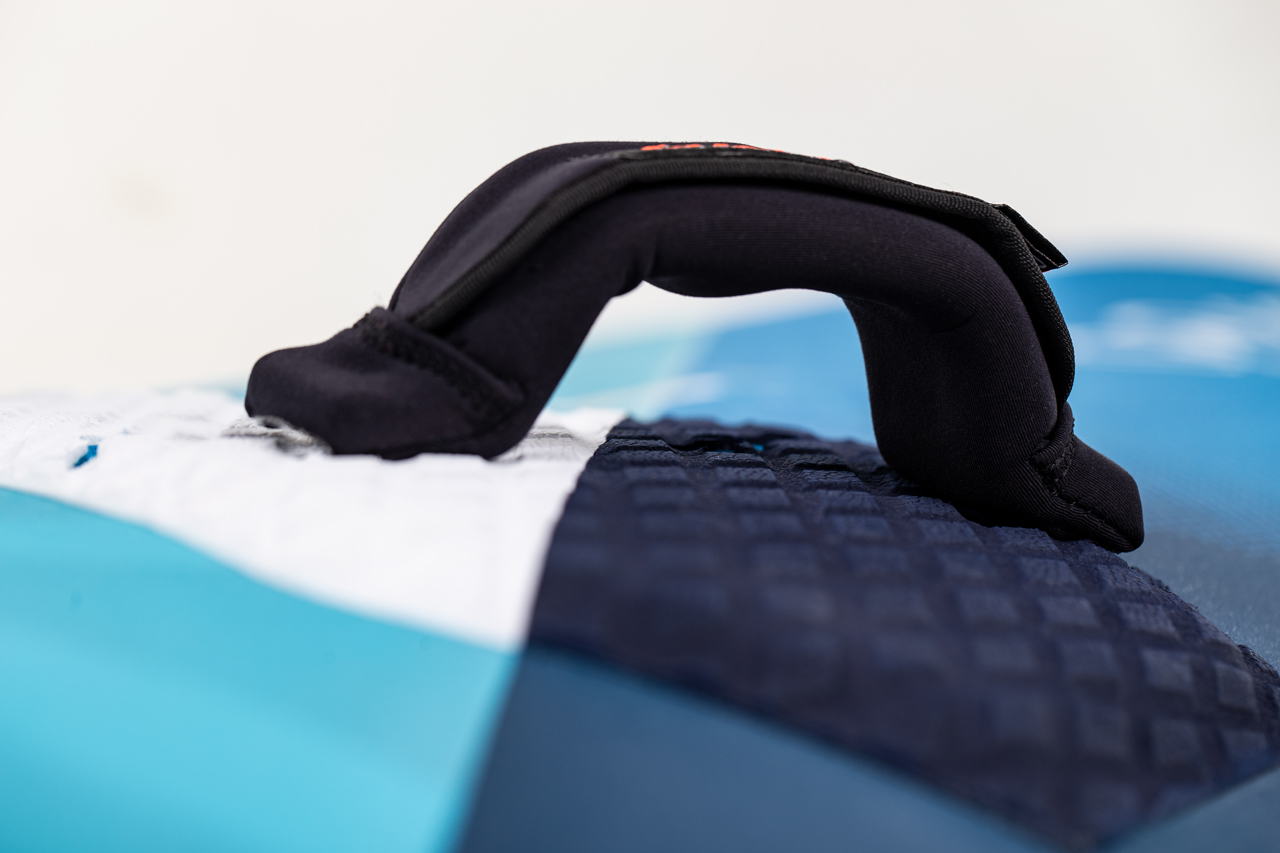 A LOCKED AND COMFORTABLE STANCE
Premium Drake footstraps are made from Yulex eco-foam with the smoothest fabric for a comfortable feel. Under your feet the 10mm thick footpads with a diamond grooving pattern provide positive grip and comfort over extended sessions while being resistant to wear-and-tear.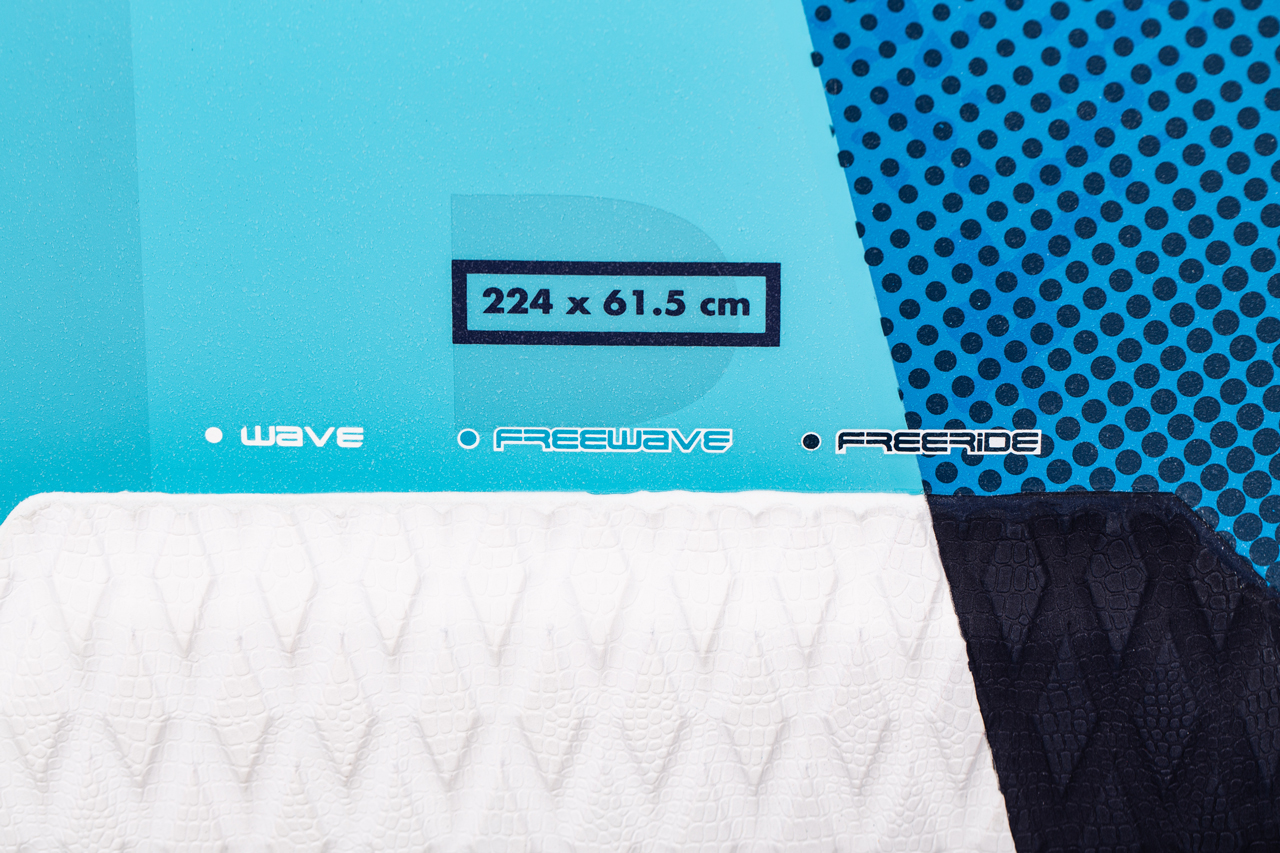 SMART COLOR SET-UP
Wave: Adjust your mast base and footstrapsaround the white marks. FreeWave: Adjust your mast base and footstraps around the light blue marks. Freeride: Adjust your mast base and footstraps around the dark blue marks.
CARBON SANDWICH PERFORMANCE VALUE
Ultralight weight, premium value and using more environmentally friendly materials. The bottom is built in full T700 uni-directional flat-woven carbon for maximum stiffness while the deck is 60% carbon, alternating between uni-directional and bi-axial carbon layers for optimized flex. The composite sandwich layers include the use of ultra-high density PET and PVC foam. For 2023, the Magenta highlighted Carbon Sandwich is a new construction for the Kode line.

| | | | | | | |
| --- | --- | --- | --- | --- | --- | --- |
| Model | Kode 85 | Kode 95 | Kode 105 | Kode 115 | Kode 125 | Kode 135 |
| Technologies | Wood Sandwich | Carbon Sandwich | Wood Sandwich | Carbon Sandwich | Wood Sandwich | Carbon Sandwich | Wood Sandwich | Carbon Sandwich | Wood Sandwich | Carbon Sandwich | Wood Sandwich | Carbon Sandwich |
| Volume | 85 L | 95 L | 105 L | 115 L | 125 L | 135 L |
| Length | 227 cm | 229 cm | 229 cm | 225 cm | 227 cm | 230 cm |
| Width | 60 cm | 62 cm | 66 cm | 66.5 cm | 69.5 cm | 71.5 cm |
| Tail Width | 38.5 cm | 39.9 cm | 42.2 cm | 44.2 cm | 46.2 cm | 47.4 cm |
| Thickness | 11.9 cm | 12.4 cm | 13.1 cm | 14.5 cm | 15.5 cm | 15.4 cm |
| Footstrap Rows | 2 | 2 | 2 | 2 | 2 | 2 |
| Fins | Drake Natural Wave 11 + MFC TF 19 | Drake Natural Wave 11 + MFC TF 20 | Drake Natural Wave 11 + MFC TF 21 | Drake Natural Wave 13 + Drake Rush 22 | Drake Natural Wave 13 + Drake Rush 24 | Drake Natural Wave 13 + Drake Rush 25 |
| Fin Boxes | 2 x StarBox 4.5" + US Box 8" | 2 x StarBox 4.5" + US Box 8" | 2 x StarBox 4.5" + US Box 8" | 2 x StarBox 4.5" + US Box 8" | 2 x StarBox 4.5" + Power Box | 2 x StarBox 4.5" + Power Box |
| Sail Range | 4.0 - 6.0 m2 | 4.5 - 6.5 m2 | 5.0 - 7.0 m2 | 5.5 - 7.5 m2 | 6.0 - 8.0 m2 | 6.5 - 8.5 m2 |
| Weight Carbon Sandwich | 6.63 kg | 6.69 kg | 7.03 kg | 7.08 kg | 7.80 kg | 8.2 kg |
| Weight Wood Sandwich | 7.0 kg | 7.3 kg | 7.7 kg | 7.65 kg | 8.13 kg | 8.6 kg |
---
https://windsurf.star-board.com/windsurfing-boards/wave-freestyle-windsurf-boards/kode-freewave-windsurf-board/